Postcard Printing Salt Lake City
Postcard Printing Salt Lake City
Postcard Printing, Postcard Mailing, and Postcard Marketing in Salt Lake City
Although postcard printing and mailing rarely occupies "center stage" in marketing campaigns in 2023, they are still often used as an integral part of an omni-channel marketing strategy. If you market with postcards that are highly targeted, personalized, trigger based, relevant to the recipient, and tie responses back to your digital marketing, postcards are highly effective. 
How Do You Tie Postcard Printing to Digital Marketing? 
To maximize the effectiveness of postcard printing for direct mail marketing, it is important to integrate your direct mail campaigns with your digital marketing. This may include events triggered from your CRM or Point of Sale (POS) System. It might include the use of QR codes and/or personalized URL's that route recipients to a personalized landing page. Those landing pages may in turn trigger other marketing messages through your CRM or Point of Sale system. 
 Does Postcard Marketing Work For Young People?
Postcards should never be overlooked as being insignificant, or worse, outdated. Studies show that young people still read their mail. Young people say that receiving postcard marketing messages that are personalized and relevant to them as an individual makes younger audiences "feel special." Younger audiences expect you to know them, or at least know something about them as an individual, and yourpostcards must show it. They want to receive marketing messages that are relevant to them as an individual – not as a "sub-set" or group of people. 
Is Postcard Printing Declining in 2023?
Yes, postcard printing has declined in volume for many years now and continues to do so in 2023. But postcard printing, and marketing using postcards, is still a highly effective component of any omni-channel marketing program. Using data, personalization, trigger-based mailing, and tying your postcards back to your digital platforms is critical to successful marketing in 2023.  
Google, Meta (Facebook parent company), REI, and other major online retailers all mail postcards as part of their overall marketing strategy. Catalogs still go out in the mail and people still look forward to receiving them.  
Postcard Printing isn't "dead" as some people like to pontificate about. In fact, with the decline in direct mail marketing, mailboxes are less "busy" which makes them a less competitive place to get your message across.  
Are Postcards Good for Marketing Your Business in 2023?
This may seem a little more esoteric than QR Codes or data driven postcards and triggered marketing automations, but it's important to pay attention to this idea anyway.  
People know how easy it is to fire off an email or text message and they also know it costs next to nothing. But intuitively they also know this type of digital marketing is low risk for the sender, requires little work to output on your part, and can be done with little or no intent.  
But when you print and mail a postcard, it shows you are serious. At least serious enough to design something relevant, print it, apply postage, mail it, and pay for it. 
If you want people to take your marketing seriously, you need to show them you take your marketing seriously. A highly personalized custom printed postcard shows a lot of work and intent on your part.
This gives your recipient at least one reason to take you seriously. You can't say that about firing off an email. 
Marketers are people – and people tend to be lazy about everything the world allows them to be lazy about. Sending out postcards that are relevant, tailored to the recipient, and properly timed, tells the recipient you are not among the lazy. And today, for those recipients who are serious about themselves and serious about their business, they know how lazy people can be and are on the lookout for laziness in all its forms.  
Put in some work up front by gathering and sorting through your data, craft personalized messages and offers, print and mail a postcard. It shows you take yourself seriously – and if you take yourself seriously, maybe other people will take you seriously as well.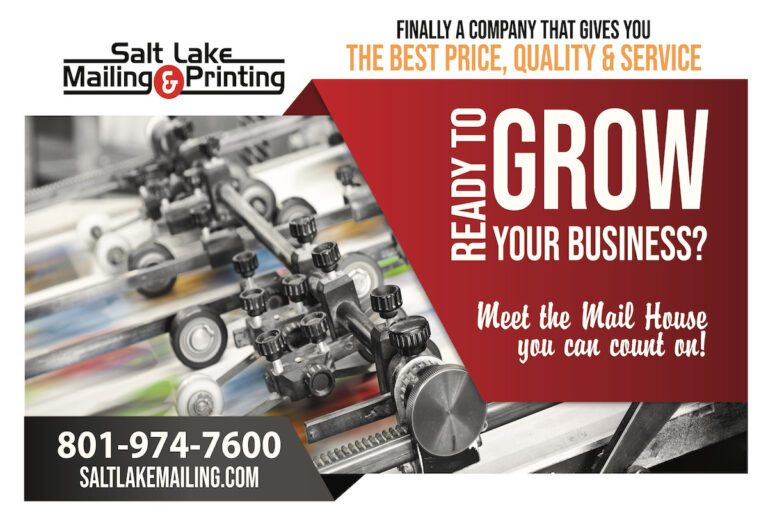 Where Can I get Postcards Printed in Salt Lake City?
Within Salt Lake City and all of Utah there are a lot of options for getting postcards printed. Most printing services offer postcard printing and design of custom postcards. But something most people don't know is that only a small handful of Salt Lake City Mailing Companies will both print AND mail your postcards for you.  
That is where Salt Lake Mailing and Printing comes in. If you are looking for a place near you in Salt Lake City to get your postcards printed and also mailed, we are a one-stop postcard printing and mailing service. We can help you design your direct mail campaign, postcards, and then process them through the United States Postal Service and get them in the mail for you. 
Talk to Salt Lake Mailing and Printing today to make postcard printing and mailing work for you. 
Excellent to work with and willing to go the extra mile to make sure your print is perfect. They have a lot great advice to save you money while still getting the look you want to achieve as well as great tips and printing techniques to make sure your piece stands out among the rest. I've enjoyed working with such a knowledgeable and personable crew over at Salt Lake Mailing…
I've had the opportunity to work with SLM&P. They have a lot of great people working there. Bert has been incredibly helpful and pivotal to really helped me do some great work. They have helped me to not only get my work printed correctly but are also great at giving advice and suggestions that have helped me to create better work. With suggestions of different printing techniques, materials, and methods. They seem to have my best interests in mind when I approach them, even if the suggestion doesn't benefit them. They have some very professional and talented pressmen that make my work shine. I recommended them often
Experience
Founded in 1983
Best Equipment
State of the Art
One Stop Mailing
We Have it All
Knowledge Base
Your Mail Expert